How to design your dream walk-in wardrobe

Your walk-in wardrobe design should create a space exuding opulence and sophistication, while being functional and accessible.
Designing your dream walk-in wardrobe is about so much more than simply creating a space to store your clothing. This space should rather be understood as a relaxing area to let the stress of the day be alleviated. Whether you are beginning your day or getting ready for an evening out, choosing your outfit should be an exciting and stress free experience. With a specialist wardrobe selection, Valcucine has put together a list of a few considerations to take into account before you choose your luxury wardrobe design.
How to design your dream wardrobe:
Drawers
Utilising space is one of the most important aspects to consider when designing your wardrobe and drawers are a fantastic solution. One can store a great deal more in drawers while having the added advantage of being neat and organized.
You can simply tuck away your neatly folded clothing items, freeing up space on your shelves for items that you would like to display such as handbags, shoes or jewelry. One is also able to customise drawer interiors, ensuring that the wardrobe design is perfectly suited to your lifestyle and habits.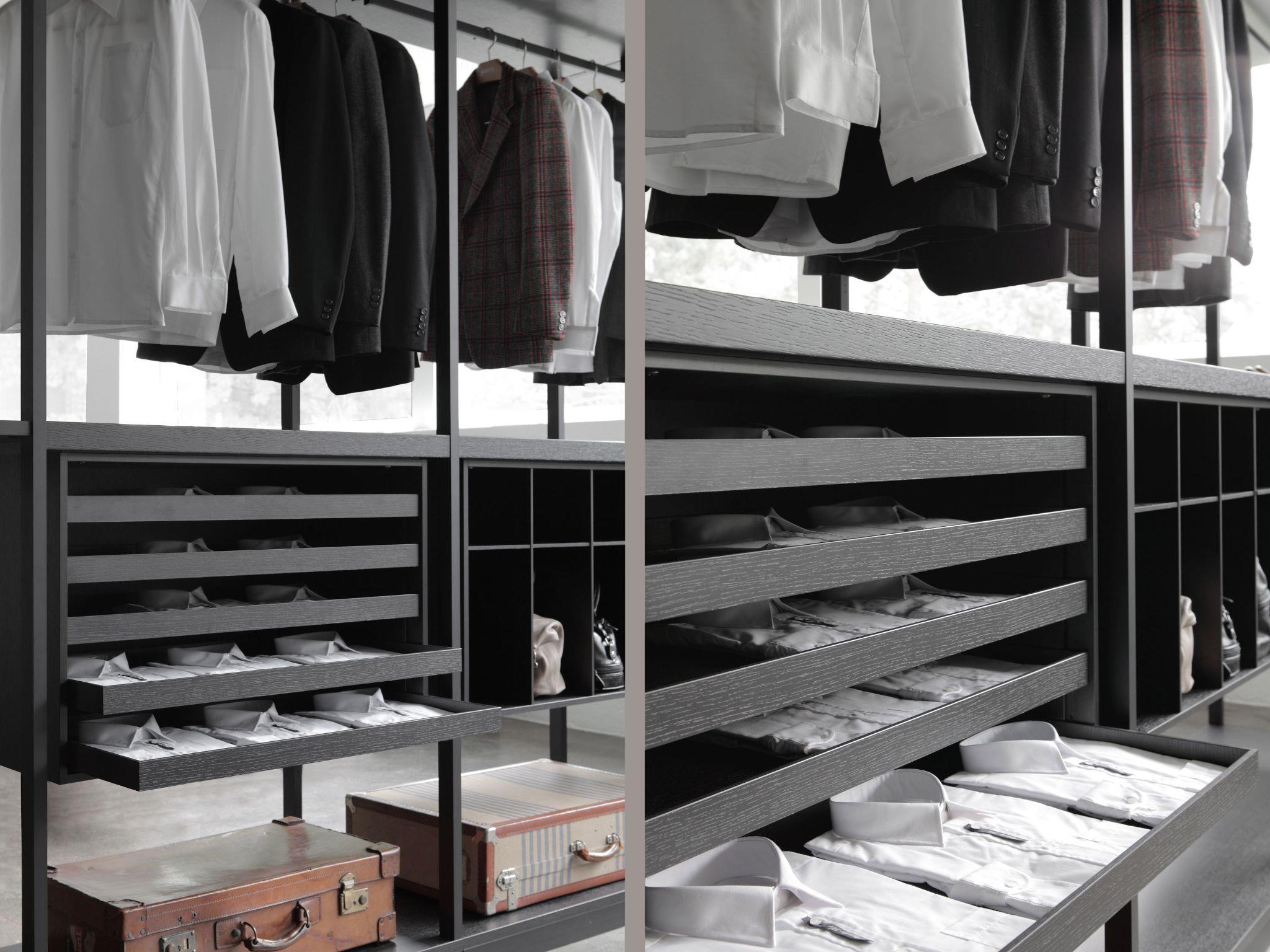 Hanging Space
It is imperative for your wardrobe design to celebrate your clothing, ensuring that your clothing is stored and displayed in the best possible manner. This is why having enough hanging space for your garments, dresses or coats is crucial. In order to decide how much space you need for hanging space is entirely dependent on your clothing items. However, rather have more than less in this case – as too little hanging space makes the wardrobe feel cramped and constricted.
Lighting
Your walk-in closet should convey a mood and ambience that works in conjunction with the rest of your interior design. You can create an atmosphere through the correct lighting choice- not only for yourself but also for your clothing. By illuminating your aspects of your wardrobe you can create an air of elegance, which will help to inspire you when you are making decisions about your outfit.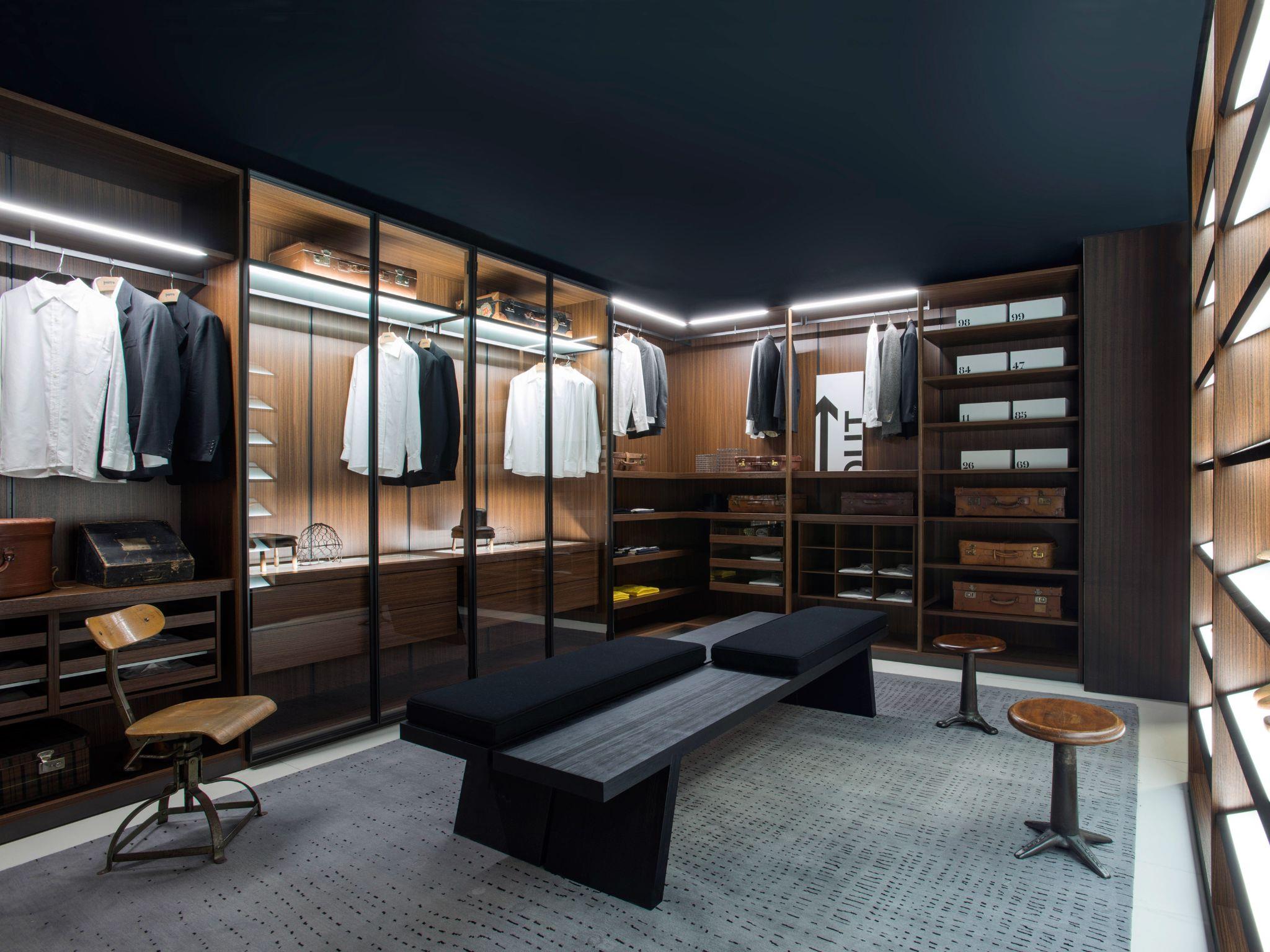 Centre Islands
Many people may think that adding an island to their wardrobe will take away space from their walk-in, however, this addition can achieve the opposite effect. By adding an island into your wardrobe it makes the area feel a lot bigger than what it may be. It also has the added benefit of creating more storage opportunities and a place to display your accessories in a tasteful but accessible manner.
Storage Air
Walk-in wardrobes don't have to be dark or closed off, in fact you could have a completely open-plan wardrobe. Our Storage Air wardrobes are a perfect example of this as they're made up of a wire-frame system and are completely open on either side. These do have the option to enclose any side with glass to create a beautiful display of your garments.
A walk-in wardrobe should be a place of beauty, peace and luxury. Celebrate your clothes by displaying them in the most beautiful way you possibly could. If you are interested in experiencing our Italian wardrobes for yourself, visit our showroom on 117 Strand Street, Cape Town.
Valcucine Cape Town is proud to be part of The Excellence Group who join like-minded brands in the industry to make it easier for clients to complete their home by working with one company. If you would like to find out more about how we at The Excellence Group can help you, give us a call on 021 035 1737 or send us an email at connect@theexcellencegroup.co.za.
https://valcucinesa.co.za/wp-content/uploads/2021/05/Dream-Wardrobe-Blog-Valcucine1.jpg
870
2048
https://valcucinesa.co.za/wp-content/uploads/2018/11/Valcucine-logos_2-600x158-transparent-cropped-530x86-300x49.png
2021-05-31 17:00:54
2021-06-01 11:34:11
How to design your dream walk-in wardrobe