The Intersection of Sustainability and Kitchen Design
A successful design should be the culmination of innovation, ergonomics and harmony with the environment. At Valcucine we aim to prioritise the wellbeing of the end-user while placing significant emphasis on our environmental impact.
At Valcucine, we aim to create designs that go beyond the aesthetic nature of a system. We use materials in our kitchen designs that offer a sensory experience through the beautiful transparency of glass, the tactility of timber, the resilience of stone and the precious thrill of metals. All of these elements are centred around one of our core values of sustainability and well-being so that each design is in harmony with nature. One such system is the Riciclantica that has been specifically designed to meet all of these requirements.
The Riciclantica has undergone an immense journey in an effort to reduce the materials used in its construction. This process is called dematerialisation and it allows for numerous benefits. The process scrutinizes the need for each element and the materials that they are made up of. Through this, we examine the environmental impact of our choices and reconsider the materials used to make them more eco-friendly.
The result of this process has meant that the Riciclantica is the lightest kitchen system that we have designed. This comes through in the meaning behind the name Riciclantica which stands for lightness and resilience. We have been able to create the lightest door in the world that fits into an aluminium structure that is water, steam and heat resistant. Due to the kitchen being so physically light, it broadens the horizons of opportunities of design, making it possible to plan kitchen layouts with wall-hung units and freedom of movement and arrangement to suit our discerning clients' needs.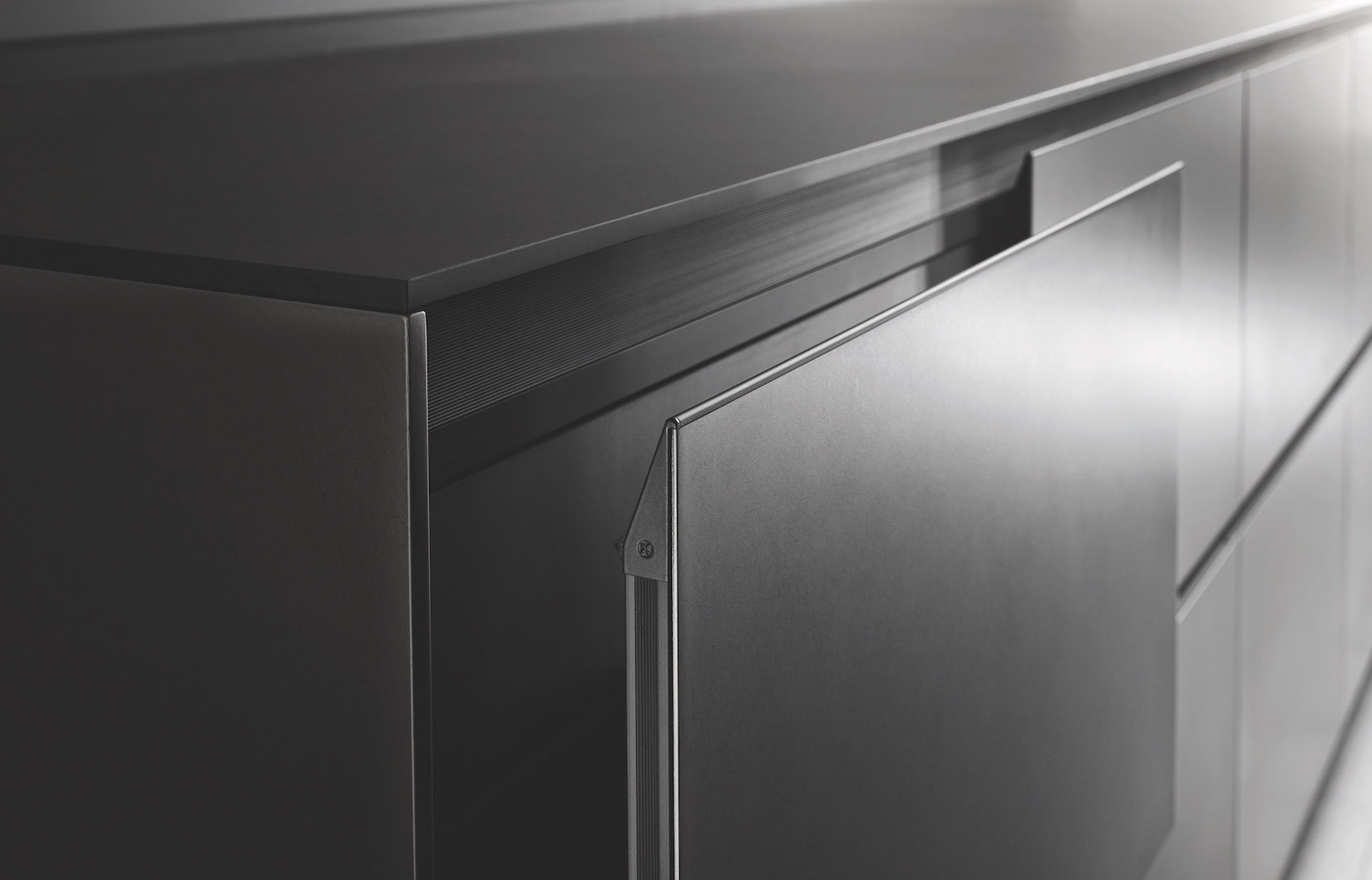 With great attention to detail being taken to make this kitchen as environmentally sustainable as possible, it means that each element has been carefully considered. We have used materials that will last a lifetime and are easily recyclable. The nature of our kitchens is built to withstand ever-changing trends and the usually natural degradation of kitchens, allowing the client to create a kitchen space that doesn't need to be updated every few years. All of these considerations have been done in order to allow our clients to live in harmony with nature by prioritising well-being through progressive innovation. 
Improving the well-being of the end-user means respecting our environment and the uniqueness of our planet. There is an underlying basic rule that sets the tone for all of our designs and that is through the reduction of materials and having a minimal impact on the environment. We have done this by complying with international sustainability certifications such as ISO14001 and FSC. Moreover, in 1998, Valcucine set up the Bioforest non-profit association to foster a more aware and responsible production culture and we have been able to actively restore and protect our natural resources.
---
Valcucine South Africa is proud to be part of  The Excellence Group  who join like-minded brands in the industry to make it easier for clients to complete their home by working with one company. If you would like to find out more about how we at The Excellence Group can help you, give us a call on  021 035 1737 or send us an email at connect@theexcellencegroup.co.za.
https://valcucinesa.co.za/wp-content/uploads/2021/11/Cover.jpg
826
1188
https://valcucinesa.co.za/wp-content/uploads/2018/11/Valcucine-logos_2-600x158-transparent-cropped-530x86-300x49.png
2021-11-30 11:35:37
2021-11-30 15:32:52
The Intersection of Sustainability and Kitchen Design