The Face Behind Valcucine – Gabriele Centazzo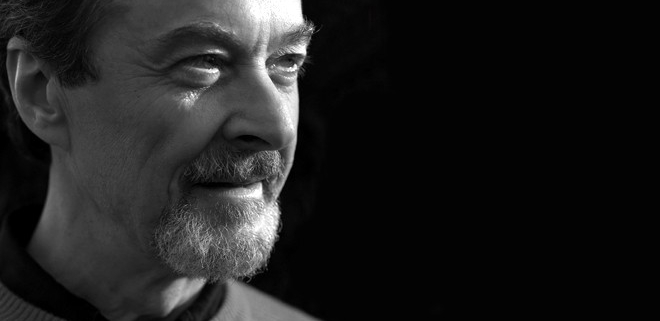 Valcucine first opened in 1980, and has since been standing out in the kitchen sector with our focus on wellbeing, innovation and timeless kitchens. Since inception, nature has played a pivotal role in all of Valcucine's designs and continues to be the source of inspiration for our founder, Gabriele Centazzo.
Gabriele states "I have always believed that beauty and good taste stem from a harmony of differences, and nature has a lot to teach us on this matter. If we examine nature carefully, we will find it contains unlimited sources of inspiration and knowledge".
Gabriele Centazzo remains the creative director and continues to introduce innovations to our existing offering. All of the technical and artistic creativity takes place at the company's headquarters in Pordenone in Italy – a space that incorporates everything that Valcucine promises to integrate into its kitchen systems – well-being, timelessness and innovation.
These core focus areas for Valcucine can be seen through all of our programmes, partnerships and philosophies.
Well-Being
Each collection is meticulously designed with people in mind to create products that improve the wellness of the user. Valcucine has earned a reputation in the industry for its dedication to improving the ergonomics and the use of space.
People's well-being is full when in perfect harmony with the environment in which they live.
This is so ingrained in our way of thinking and acting as well to have become part of our logo, adopting an ancient symbol that perfectly sums up our philosophy.
Innovation
Valcucine has revolutionised the kitchen space with numerous ground-breaking solutions. Specifically kitchen doors with Artematica, the first door in the world with an aluminium frame that is invisible from the outside.
In 2006, Valcucine introduced the glass version with Invitrum base units, which made it the first-ever 100% recyclable kitchen.
Timeless
Valcucine designs timeless kitchens that are impervious to trends, built to last and accompany the users throughout their lives. Each kitchen offers extensive planning freedom due to the variety of units available.
Valcucine uses the highest quality of materials available for the design and manufacturing of our products. This promises durability, supported by a 10-year warranty.
In 2018, Gabriele Centazzo was interviewed by the SA Home Owner magazine, he was asked what is the most challenging aspect of your work, his response being;
"The real challenge is the project that allows some sort of thought processing. We're living in a society in which standard thought becomes a univocal element and where the possibility to elaborate different thoughts is a unique opportunity. Thanks to the thought processing you can invent new things, you can change them. The lack of thought causes passivity which in turn causes standardisation."
Since Valcucine was established, we have been committed to thought processing and continuous innovation. Through Gabriele's creative direction, Valcucine now distributes kitchens to more than 370 showrooms all over the world, including Europe, the U.S.A., the Middle East, India, South-East Asia and South Africa.
---
Valcucine South Africa is proud to be part of  The Excellence Group  who join like-minded brands in the industry to make it easier for clients to complete their home by working with one company. If you would like to find out more about how we at The Excellence Group can help you, give us a call on  021 035 1737 or send us an email at connect@theexcellencegroup.co.za.
https://valcucinesa.co.za/wp-content/uploads/2022/02/The-Face-Behind-Valcucine-Gabriele-Centazzo.jpg
373
660
https://valcucinesa.co.za/wp-content/uploads/2018/11/Valcucine-logos_2-600x158-transparent-cropped-530x86-300x49.png
2022-02-25 09:05:13
2022-02-25 09:05:13
The Face Behind Valcucine – Gabriele Centazzo