For the past 1500 years, Venetian glass production has been concentrated on the island of Murano in Italy. Today, Murano is known for its art glass, but it has a long history of innovations in glassmaking. At our Italian kitchen company, Valcucine, we are staying true to this heritage by embracing the use of glass in various ways.
Valcucine was the first company to use glass in a very unique way – our Invitrum carcass. Here the entire unit's carcass consists out of 10mm thick tempered glass panels with special aluminum mechanisms to join the panels together.
Despite the stigma of glass fragility, even the countertop consists of the same material: tempered glass. At out showroom on 117 Strand Street, Cape Town, we challenge this sense of doubtfulness toward glass countertops through an experimental display. In order to demonstrate the strength of Valcucine tempered glass we allow you to drop a 0,5kg steel ball onto one of our glass counter tops.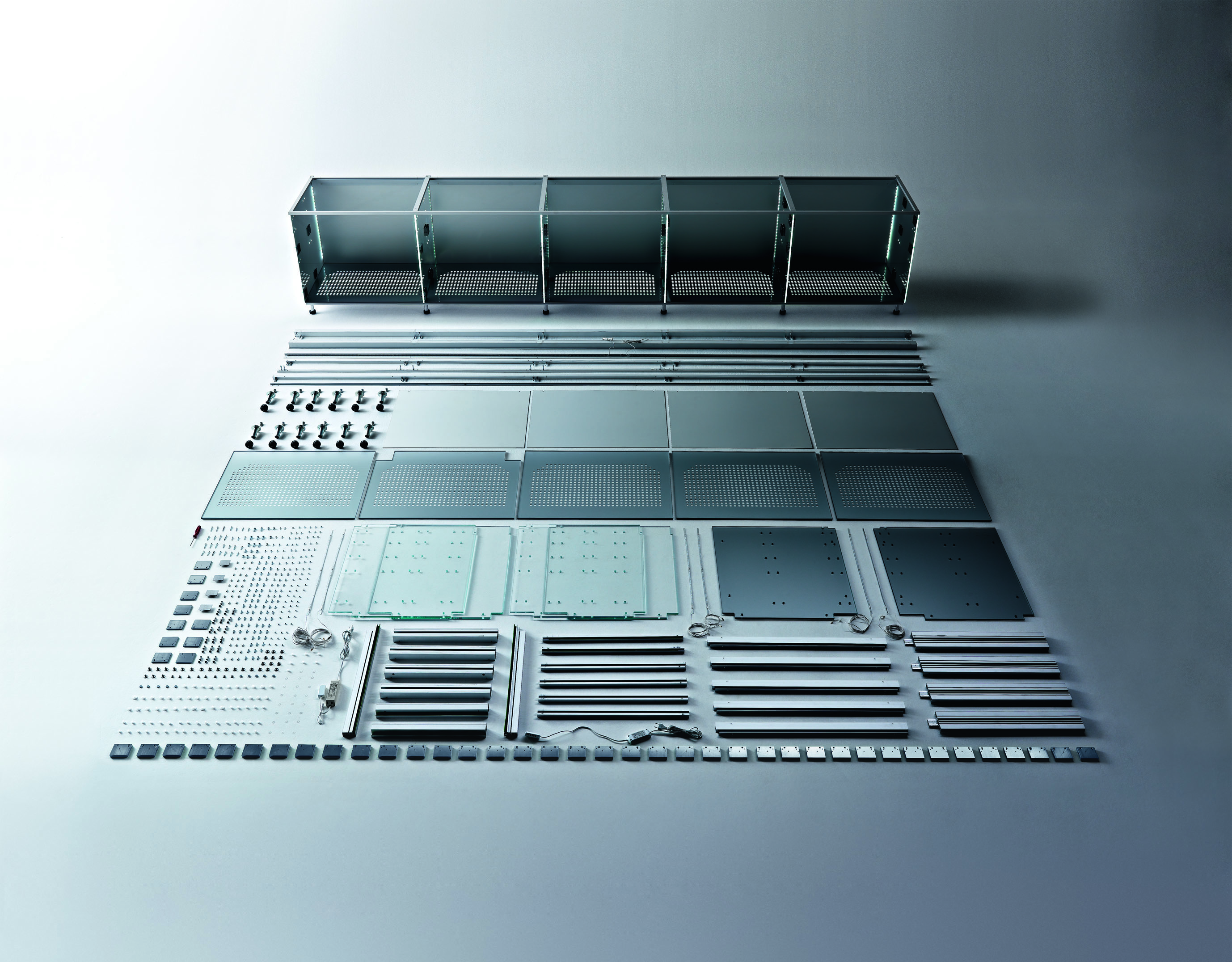 Not only is glass a functional material, but it also has aesthetic benefits. We embrace the timeless Italian technique of glass inlay as a finish option on your kitchen fronts or countertops. Here an artisan uses years of knowledge to apply graphic sheets to the back of a tempered glass panel, covered for protection once completed. The artwork may even be customized to your wishes.
We know that many people adore the timeless aesthetic of marble and granite, yet it will not remain a sustainable approach in the near future. In an attempt to combine the aesthetic please of natural stones with a sustainable approach we have now released our Vitrum mimesis; A high resolution scan is taken from a natural slab of stone, printed on a solid sheet and applied to the back of a glass panel. This allows the design to even have a Sahara Noir aesthetic on new surfaces such as the built in fridge door.
Another company that is part of the Italian Creation group alongside Valcucine is Fontana Arte. Since the foundation in 1881 they have been experimenting and growing to use technology and craftmanship simultaneously. Here they embrace the beauty of glassblowing techniques in unison with the fine details and precision of futuristic technology.
---
Follow our social media pages or visit our Cape Town showroom for more information about Valcucine.
https://valcucinesa.co.za/wp-content/uploads/2020/08/invitrum-1.jpg
579
1030
https://valcucinesa.co.za/wp-content/uploads/2018/11/Valcucine-logos_2-600x158-transparent-cropped-530x86-300x49.png
2020-12-29 09:00:04
2020-12-21 11:43:24
GLASS IN YOUR KITCHEN